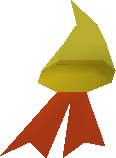 The 10th squad sigil is an item used to teleport to the final boss during the Monkey Madness I quest. It will no longer teleport you to the boss fight arena after you defeat the Jungle Demon. It can be safely thrown away after the quest, however it can be kept as a cosmetic item. If lost, the sigil may be recovered by speaking to Waymottin, the gnome mage at the end of the Ape Atoll Dungeon.
Bonuses
Hover over image for type

A player wearing the 10th squad sigil.
 Attack bonus
+0
+0
+0
+0
+0
 Defence bonus
+0
+0
+0
+0
+0
Other bonuses
Slot

list

+0
0
0%
+0
Ad blocker interference detected!
Wikia is a free-to-use site that makes money from advertising. We have a modified experience for viewers using ad blockers

Wikia is not accessible if you've made further modifications. Remove the custom ad blocker rule(s) and the page will load as expected.