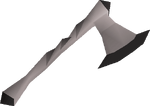 The 3rd age axe is an extremely rare reward from a master clue scroll. It requires 65 Attack to wield and 61 Woodcutting to use. It provides the same cutting speed as a dragon axe, and shares the same special attack.
Bonuses
Hover over image for type
 Attack bonus
-2
+38
+32
+0
+0
 Defence bonus
+0
+1
+0
+0
+0
Other bonuses
Slot

list

+42
0
0%
+0
Standard

 Bronze •  Iron •  Steel •  Black •  Mithril •  Adamant •  Rune •  Dragon •  3rd age •  Infernal

Other
Ad blocker interference detected!
Wikia is a free-to-use site that makes money from advertising. We have a modified experience for viewers using ad blockers

Wikia is not accessible if you've made further modifications. Remove the custom ad blocker rule(s) and the page will load as expected.