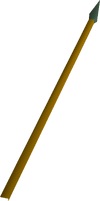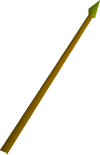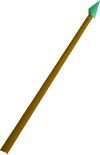 The adamant spear is a two-handed members'-only melee weapon. Adamant spears are obtained by either purchasing one from another player or receiving it as a monster drop. Adamant spears are not sold in shops. Using the Smithing skill, players can create adamant spears with level 75 Smithing. However, players must have begun Barbarian Smithing training to be able to smith these spears. Like all spears, the adamant spear can be poisoned.
Bonuses
Hover over image for type

A player wielding an adamant spear
 Attack bonus
+24
+24
+24
+0
+0
 Defence bonus
+1
+1
+0
+0
+0
Other bonuses
Slot

list

+28
+0
+0%
+0
Dropping monsters
↑ Only dropped if the player hasn't completed Barbarian Training.
Dagger

 Bronze •  Iron •  Bone •  Steel •  Black •  White •  Mithril •  Adamant •  Rune •  Toktz-xil-ek •  Dragon •  Abyssal

Sword

 Training •  Wooden •  Bronze •  Iron •  Steel •  Black •  White •  Mithril •  Adamant •  Rune •  Rapier •  Leaf-bladed •  Toktz-xil-ak •  Dragon •  Ghrazi rapier

Spear

 Bronze •  Iron •  Bone •  Steel •  Black •  Mithril •  Adamant •  Rune •  Gilded •  Leaf-bladed •  Dragon •  Guthan's •  Zamorakian •  Vesta's

Hasta

 Bronze •  Iron •  Steel •  Mithril •  Adamant •  Rune •  Gilded •  Zamorakian

Other

 Egg whisk •  Spork •  Kitchen knife •  Wolfbane •  Keris •  Dark •  Glowing
Melee weapons

 Dagger •  Axe •  Mace •  Claws •  Sword •  Longsword •  Scimitar •  Spear •  Warhammer •  Battleaxe •  2h sword •  Halberd •  Hasta •  Pickaxe •  Cane

Ranged weapons/ammo

 Crossbow •  Bolts •  Arrows •  Brutal arrows •  Darts •  Javelins •  Thrownaxe •  Throwing knife

Armour

 Med helm •  Full helm (t) (g) (h) •  Square shield •  Kiteshield (t) (g) (h) •  Chainbody •  Platebody (t) (g) •  Plateskirt (t) (g) •  Platelegs (t) (g) •  Boots •  Gloves •  Defender

Other

 Arrowtips •  Javelin heads •  Broken axe •  Broken pickaxe •  Nails •  Dart tip