This article is about the ore. For the rock it's extracted from, see
Adamantite rock
.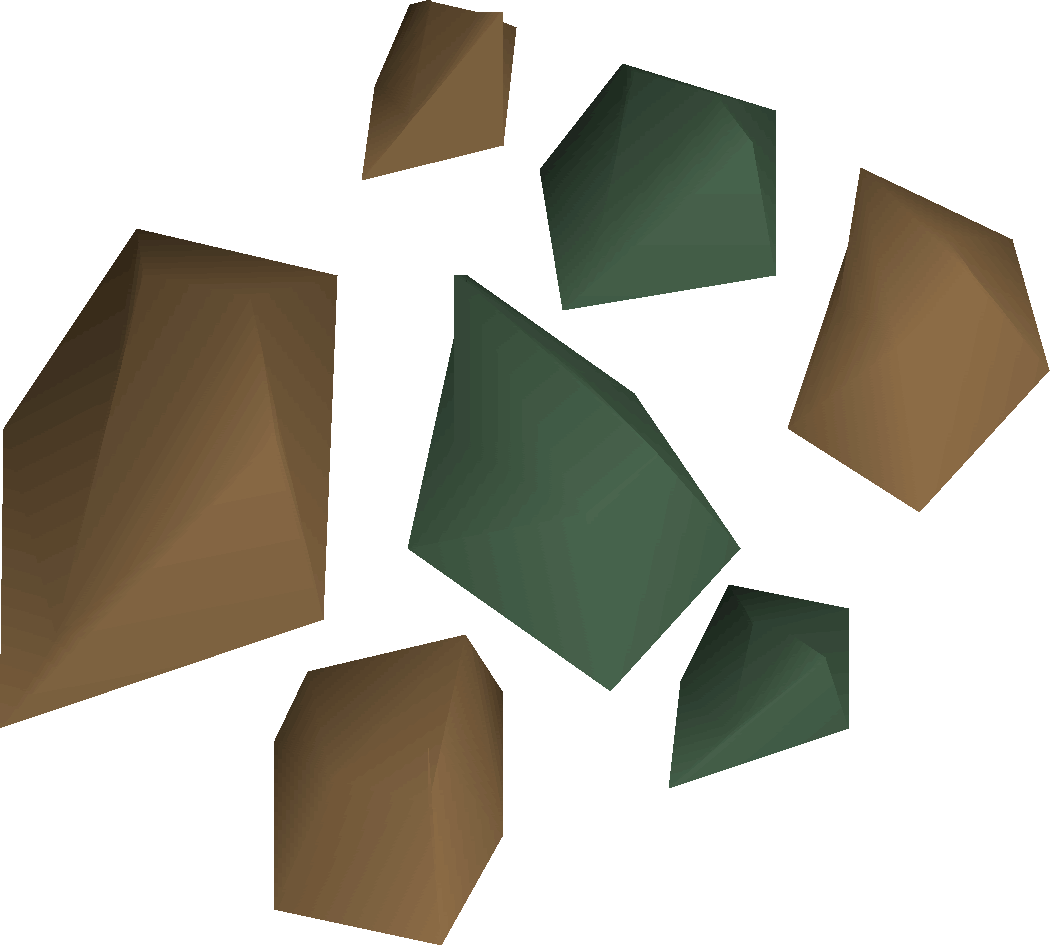 Adamantite ore is an item used for Smithing and can be obtained by mining adamantite rocks at 70 Mining. It grants 95 Mining experience when mined. It is rarely used for training Mining, as the long respawn time of 4 minutes leads to only around 1,425 experience an hour if only mining one rock. It is mined most efficiently along with mithril in the Jatizso mine; however, it is not recommended as the mine is inhabited by aggressive level 128 Ice Trolls. It is easy to obtain in both the Al Kharid and West Lumbridge Swamp mine, but Al Kharid Mine has level 14 scorpions, which are aggressive to those under 29 Combat.
Players with 70 Smithing can use one adamant ore and 6 coal in a furnace to create an adamantite bar, granting 37.5 Smithing experience. 
Locations
Edit
Adamantite ore can be found in different mining sites around RuneScape such as:
Other places:
Respawn rate
Edit
As of 17 July 2014 and according to the Boss Pets and Spawn Rates update:
"
Spawn rates of pretty much everything in Old School will now be consistent throughout all worlds...[and] resources and monsters now spawn at a standardised rate throughout all worlds regardless of how many people are currently online.
"
 

— Mods Alfred, Ash, John C, Mat K, Reach, Ronan & Weath
That means adamant ore spawns at a standardised spawn rate, which is 4 minutes after it was last mined, no matter how many players are on a world. Whether it's zero or 2000 players in a single server, all ore across the game will respawn at the same rate.
Dropping monsters
Edit
Adamantite ore can also be dropped by monsters that access the Rare Drop Table.
Mining rocks and sources

Copper • Tin • Essence • Clay • Blurite • Limestone • Iron • Daeyalt • Elemental • Silver • Ash • Coal • Sandstone • Gold • Gem rocks • Granite • Mithril • Lunar • Lovakite • Adamantite • Runite • Amethyst

Ores

 Copper •  Tin •  Blurite •  Iron •  Daeyalt •  Elemental •  Silver •  Coal •  Gold •  Blasted •  Mithril •  Lunar •  Lovakite •  Adamantite •  Runite

Other mineables

 Clay •  Soft clay •  Pay-dirt •  Unidentified minerals •  Granite •  Limestone •  Soda ash •  Volcanic ash •  Sandstone • Uncut gem •  Rune essence •  Pure essence •  Dense essence block •  Volcanic sulphur •  Amethyst

Pickaxes

 Bronze •  Iron •  Steel •  Black •  Mithril •  Adamant •  Rune •  Dragon (or) •  Infernal
Melee weapons

 Dagger •  Axe •  Mace •  Claws •  Sword •  Longsword •  Scimitar •  Spear •  Warhammer •  Battleaxe •  2h sword •  Halberd •  Hasta •  Pickaxe •  Cane

Ranged weapons/ammo

 Crossbow •  Bolts •  Arrows •  Brutal arrows •  Darts •  Javelins •  Thrownaxe •  Throwing knife

Armour

 Med helm •  Full helm (t) (g) (h) •  Square shield •  Kiteshield (t) (g) (h) •  Chainbody •  Platebody (t) (g) •  Plateskirt (t) (g) •  Platelegs (t) (g) •  Boots •  Gloves •  Defender

Other

 Arrowtips •  Javelin heads •  Broken axe •  Broken pickaxe •  Nails •  Dart tip
Ad blocker interference detected!
Wikia is a free-to-use site that makes money from advertising. We have a modified experience for viewers using ad blockers

Wikia is not accessible if you've made further modifications. Remove the custom ad blocker rule(s) and the page will load as expected.