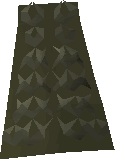 Ahrim's robe skirt is piece of magic armour worn in the legwear slot which is part of Ahrim the Blighted's set of barrows equipment. To wear Ahrim's robe skirt, a player must have 70 Defence and 70 Magic.
If the robe skirt is worn along with all of the other pieces of equipment in Ahrim's set, a passive effect will be activated: successful Magic attacks will have a chance of temporarily lowering the opponent's Strength level. This piece of armour cannot be made using the Smithing or Crafting skills.
Ahrim's robe skirt is only tradeable when undamaged or fully broken.
If you drop this item it will degrade to "0".
Bonuses
Hover over image for type

A player wearing Ahrim's robes.
 Attack bonus
+0
+0
+0
+22
-7
 Defence bonus
+33
+30
+36
+22
+0
Other bonuses
Slot

list

+0
+0
+0%
+0
Ahrim's robeskirt is unusually heavy compared to other magic legwear; it is second only to granite legs as the heaviest legwear in the game.
Dharok the Wretched
Torag the Corrupted
Ahrim the Blighted
Verac the Defiled

 Set •  Helm •  Brassard •  Plateskirt •  Flail

Guthan the Infested

 Set •  Helm •  Platebody •  Chainskirt •  Warspear

Karil the Tainted

 Set •  Coif •  Leathertop •  Leatherskirt •  Crossbow (Bolt rack)
Hats

 Void (+0) •  Elemental (+0) •  Mind (+0) •  Wizard(t)(g) (+2) •  Wizard(t)(g) (+2) •  Skeletal (+2) •  Xerician (+3) •  Gnome (+3) •  Canifis (+3) •  Fremennik (+3) •  Splitbark (+3) •  Ghostly (+3) •  Lunar (+3) •  Slayer helmet (i) (+3) •  Mystic (+4) •  Enchanted (+4) •  Darkness (+4) •  Mitre (+4) •  Elder (+5) •  Infinity (+6) •  Ahrim's (+6) •  Farseer (+6) •  Healer (+6)•  Third age (+8)•  Ancestral (+8)

Robe tops

 Void (+0) •  Zamorak (+2) •  Wizard (t)(g) (+3) •  Black(t)(g) (+3) •  Vestment (+4) •  Ghostly (+5) •  Skeletal (+8) •  Elder (+10) •  Splitbark (+10) •  Lunar (+10) •  Xerician (+12) •  Mystic (+20) •  Enchanted (+20) •  Darkness (+20) •  Infinity (+22) •  Third age (+24) •  Ahrim's (+30) •  Ancestral (+35)

Robe legs

 Void (+0) •  Blue(t)(g)(+0) •  Black (t)(g) (+0) •  Zamorak (+2) •  Ghostly (+4) •  Vestment (+4) •  Skeletal (+6) •  Elder (+6) •  Splitbark (+7) •  Lunar (+7) •  Xerician (+8) •  Mystic (+15) •  Enchanted (+15)•  Darkness (+15) •  Infinity (+17) •  Third age (+19) •  Ahrim's (+22) •  Ancestral (+26)

Gloves

 Void (+0) •  Skeletal (+0) •  Hardleather (+1) •  Bronze (+1) •  Splitbark (+2) •  Ghostly (+2) •  Iron (+2) •  Steel (+2) •  Mystic (+3) •  Darkness (+3) •  Combat bracelet (+3) •  Regen bracelet (+3) •  Black (+3) •  Mithril (+3) •  Lunar (+4) •  Adamant (+4) •  Rune (+4) •  Infinity (+5) •  Dragon (+5) •  Barrows (+6) •  Tormented bracelet (+10)

Boots

 Skeletal (+0) •  Splitbark (+2) •  Ghostly (+2) •  Lunar (+2) •  Mystic (+3) •  Darkness (+3) •  Wizard (+4) •  Infinity (+5) •  Eternal (+8)

Capes

 Vestment cloak (+1) • Fire cape (+1) • Infernal cape (+1) •  Ardougne cloak 1 (+2) •  Ardougne cloak 2 (+4) •  Ghostly cloak (+5) •  Ardougne cloak 3 (+5) •  Ardougne cloak 4 (+6) •  God capes (+10) •  Imbued god capes (+15)

Amulets

 Stole (+2) •  Accuracy (+4) •  Power (+6) •  Magic (t) (+10) •  Glory (t) (+10) •  Fury (or) (+10) •  Occult(or) (+12) •  Third age (+15)

Rings

Shields

 Broodoo shield (+3) •  Book of balance (+4) •  Unholy book (+8) •  Tome of fire (+8) •  Book of darkness (+10) •  Malediction ward (+12) •  Ancient wyvern shield (+15) •  Mage's book (+15) •  Arcane spirit shield (+20)