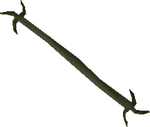 Ahrim's staff is a two-handed magic weapon that is part of Ahrim the Blighted's set. To wield Ahrim's staff, the player must have 70 Magic and 70 Attack.
Being part of Ahrim's set, if the staff is wielded along with all of the other pieces of equipment in the set the player receives a special effect: successful attacks have a 20% chance of lowering the opponent's Strength by five levels.
Wearing an amulet of the damned in addition to the entire set provides an extra effect: the staff gains the ability to autocast Ancient Magicks, and combat spells have a 25% chance of dealing 30% extra damage.
Ahrim's staff is not very popular due to the fact that it cannot autocast Ancient Magicks without the amulet of the damned, it degrades and it is two-handed, meaning it cannot be used in conjunction with a book or shield. As well as this, the damage boost with the amulet of the damned on average deals 7.5% more damage which is vastly inferior to the damage boost of staff of the dead and occult necklace, which is 25%. Most users of Ahrim's robes use an alternative staff such as the staff of the dead, which has better accuracy and damage output, is one-handed, and is non-degradable.
Bonuses
Hover over image for type

A player wielding Ahrim's staff.
 Attack bonus
+12
-1
+65
+15
+0
 Defence bonus
+3
+5
+2
+15
+0
Other bonuses
Slot

list

+68
0
0%
+0
Staves

 Staff •  Magic •  White •  Air •  Water •  Earth •  Fire •  Ancient •  Slayer's (e) •  Iban's (upgraded) •  Toktz-mej-tal •  Ahrim's •  Staff of the dead •  Toxic staff of the dead

Battlestaves

 Battlestaff •  Air •  Water •  Earth •  Fire •  Lava (or) •  Mud •  Steam (or) •  Smoke •  Mist •  Dust

Mystic staves

 Air •  Water •  Earth •  Fire •  Lava (or) •  Mud •  Steam (or) •  Smoke •  Mist •  Dust

God staves
Croziers

Other staves

 Broken •  Staff of armadyl •  Skull sceptre (i) •  Dramen •  Lunar •  Rod of ivandis •  Trident of the seas •  Trident of the swamp •  Pharaoh's sceptre •  Void knight mace
Dharok the Wretched
Torag the Corrupted
Ahrim the Blighted

 Set •  Hood •  Robe top •  Robe skirt •  Staff

Verac the Defiled

 Set •  Helm •  Brassard •  Plateskirt •  Flail

Guthan the Infested

 Set •  Helm •  Platebody •  Chainskirt •  Warspear

Karil the Tainted

 Set •  Coif •  Leathertop •  Leatherskirt •  Crossbow (Bolt rack)
Ad blocker interference detected!
Wikia is a free-to-use site that makes money from advertising. We have a modified experience for viewers using ad blockers

Wikia is not accessible if you've made further modifications. Remove the custom ad blocker rule(s) and the page will load as expected.