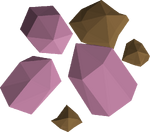 Amethyst is a type of mineral mined from amethyst crystals, requiring a mining level of 92. It can be cut into certain ranging materials with a chisel by a player with the appropriate Crafting level.
Amethyst can be used to make the following items:
Speaking to Utrec in the Mining Guild will reveal that the dwarves in Keldagrim use it as a construction material.
During development, the mineral was planned to be named "quartz". After player complaints on how common quartz is in real life, Jagex renamed the mineral as "amethyst", which is rarer and more valuable.
In real life, amethyst is a violet variety of quartz often used in jewellery that is believed to protect its owner from drunkenness.
Strings

Logs

 Regular •  Oak •  Willow •  Maple •  Achey •  Yew •  Magic •  Redwood

Unstrung shortbows

Unstrung longbows

Arrows

 Arrow shaft •  Feather •  Headless arrow •  Bronze arrowtips •  Iron arrowtips •  Steel arrowtips •  Mithril arrowtips •  Broad arrowheads •  Adamant arrowtips •  Rune arrowtips •  Amethyst arrowtips •  Dragon arrowtips

Javelins

 Javelin shaft •  Bronze javelin heads •  Iron javelin heads •  Steel javelin heads •  Mithril javelin heads •  Adamant javelin heads •  Rune javelin heads •  Amethyst javelin heads •  Dragon javelin heads

Ballistae

 Ballista limbs •  Ballista spring •  Light frame •  Heavy frame •  Monkey tail •  Incomplete light ballista •  Incomplete heavy ballista •  Unstrung light ballista •  Unstrung heavy ballista

Ogre bows

 Ogre arrow shaft •  Flighted ogre arrow •  Wolfbone arrowtips •  Unstrung comp bow

Crossbow stock
Crossbow limbs

 Bronze •  Blurite •  Iron •  Steel •  Mithril •  Adamantite •  Runite

Unstrung crossbows

 Bronze •  Blurite •  Iron •  Steel •  Mithril •  Adamant •  Runite

Unfinished bolts

 Bronze •  Blurite •  Silver •  Iron •  Steel •  Mithril •  Broad •  Adamant •  Runite

Bolt tips

 Opal •  Jade •  Pearl •  Red topaz •  Sapphire •  Emerald •  Ruby •  Diamond •  Amethyst •  Dragonstone •  Onyx

Darts
Ad blocker interference detected!
Wikia is a free-to-use site that makes money from advertising. We have a modified experience for viewers using ad blockers

Wikia is not accessible if you've made further modifications. Remove the custom ad blocker rule(s) and the page will load as expected.