Amethyst javelin heads
Release date
22 June 2017 (Update)
Members only?
Yes
Quest item?
No
Tradeable?
Yes
Equipable?
No
Stackable?
Yes
High Alch
912 coins
Low Alch
608 coins
Destroy
Drop
Store price
Not sold
Exchange price

758

coins (info)
Buy limit
Unknown
Weight
0 kg
Examine
Needs a shaft.
[view]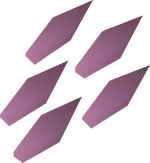 Amethyst javelin heads are items that can be made at level 87 Crafting, granting 5 javelin heads and 60 experience per set.
They can be fletched into amethyst javelins at level 84 Fletching when used with javelin shafts, which are made by using regular logs with a knife, giving 202.5 experience per 15 javelins made.
Javelins

 Bronze •  Iron •  Steel •  Mithril •  Adamant •  Rune •  Amethyst •  Dragon

Javelin heads

 Bronze •  Iron •  Steel •  Mithril •  Adamant •  Rune •  Amethyst •  Dragon
Strings

Logs

 Regular •  Oak •  Willow •  Maple •  Achey •  Yew • Magic •  Redwood

Unstrung bows

| | |
| --- | --- |
| Unstrong shortbows | |
| Unstrung longbows | |

Wooden shields

Arrows

 Arrow shaft •  Feather •  Headless arrow •  Bronze arrowtips •  Iron arrowtips •  Steel arrowtips •  Mithril arrowtips •  Broad arrowheads •  Adamant arrowtips •  Rune arrowtips •  Amethyst arrowtips •  Dragon arrowtips

Javelins

 Javelin shaft •  Bronze javelin heads •  Iron javelin heads •  Steel javelin heads •  Mithril javelin heads •  Adamant javelin heads •  Rune javelin heads •  Amethyst javelin heads •  Dragon javelin heads

Ballistae

 Ballista limbs •  Ballista spring •  Light frame •  Heavy frame •  Monkey tail •  Incomplete light ballista •  Incomplete heavy ballista •  Unstrung light ballista •  Unstrung heavy ballista

Ogre bows

 Ogre arrow shaft •  Flighted ogre arrow •  Wolfbone arrowtips •  Unstrung comp bow

Crossbow stock

 Wooden •  Oak •  Willow •  Teak •  Maple •  Mahogany •  Yew •  Magic

Crossbow limbs

 Bronze •  Blurite •  Iron •  Steel •  Mithril •  Adamantite •  Runite •  Dragon

Unstrung crossbows

 Bronze •  Blurite •  Iron •  Steel •  Mithril •  Adamant •  Runite •  Dragon

Unfinished bolts

 Bronze •  Blurite •  Silver •  Iron •  Steel •  Mithril •  Broad •  Adamant •  Runite •  Dragon

Bolt tips

 Opal •  Jade •  Pearl •  Red topaz •  Sapphire •  Emerald •  Ruby •  Diamond •  Amethyst •  Dragonstone •  Onyx

Dart tips