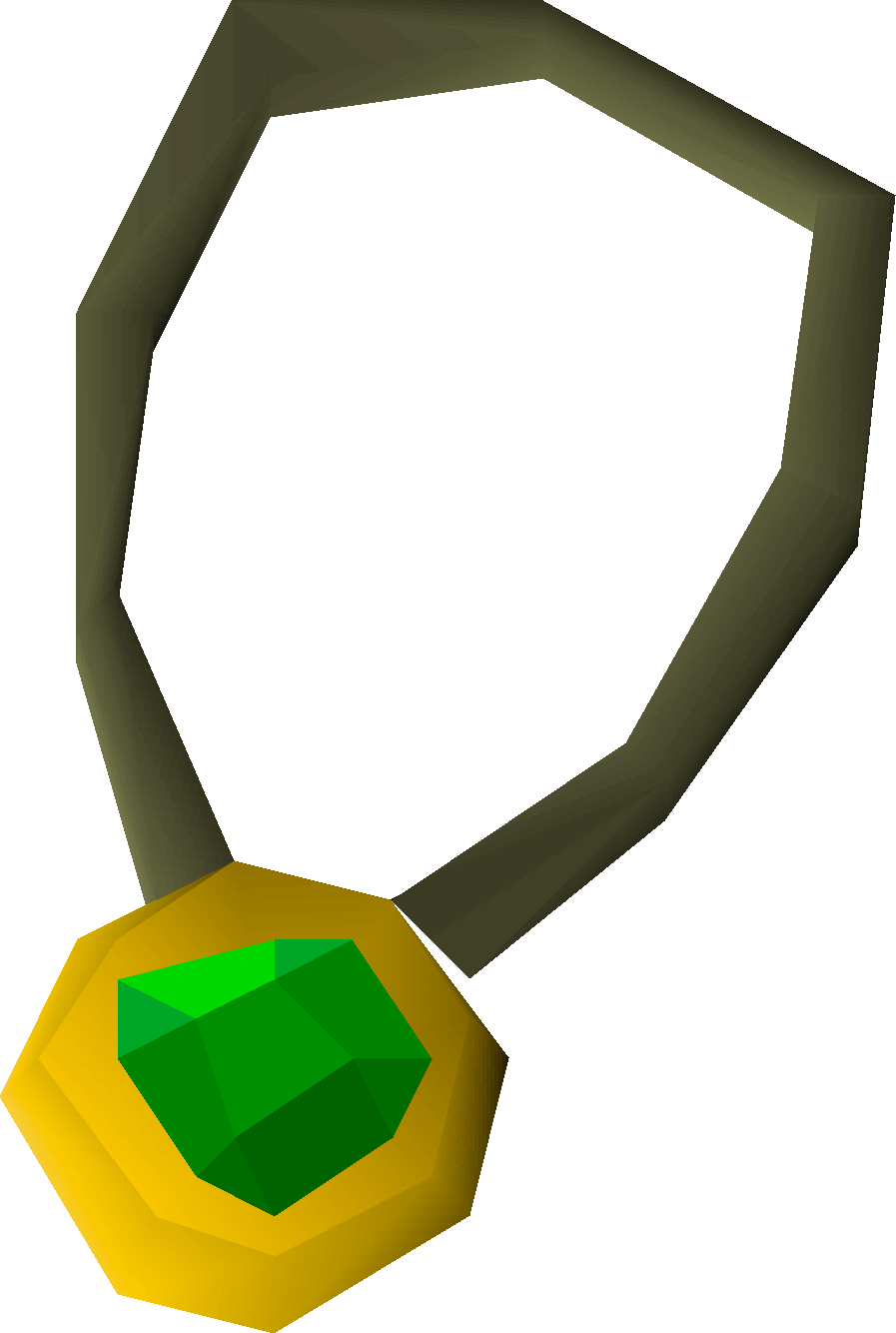 An Amulet of nature is used to monitor the state of a Farming patch. It can only be bound to one patch at a time, and will remain bound until a different patch is used. If the state of the patch that the amulet is bound to changes and the amulet is worn, it will vibrate. This should allow the wearer to detect when the patch is diseased or fully grown. This feature will only show up if you're online at the time and ONE time when you log in, but you can also rub the amulet at any time to find out the current state of your patch. You can only have 1 Amulet of nature at a time and, once enchanted, it is nontradeable. There is no limit to how many times you can rub the amulet and it can be used again after harvesting or clearing the patch it is bound to.
An Amulet of nature can be created by stringing an emerald amulet(u) with magic string to make a Pre-nature amulet. Casting Lvl-2 Enchant on it will result in an Amulet of nature. Once the emerald amulet is strung with magic string, it is not tradeable!
Bonuses
Hover over image for type
 Attack bonus
+0
+0
+0
+0
+0
 Defence bonus
+0
+0
+0
+0
+0
Other bonuses
Slot

list

+0
0
0%
+0
Crafted

| | |
| --- | --- |
| Unstrung |  Gold •  Sapphire •  Opal •  Emerald •  Jade •  Topaz •  Ruby •  Diamond •  Dragonstone •  Onyx •  Zenyte |
| Strung |  Gold •  Sapphire •  Opal •  Emerald •  Pre-nature •  Jade •  Topaz •  Ruby •  Diamond •  Dragonstone •  Onyx •  Zenyte |
| Enchanted |  Magic (t) •  Bounty •  Defence •  Nature •  Chemistry •  Burning •  Strength (t) •  Power •  Glory (t) •  Fury (or) •  Torture (or) |

Translation

 Camulet •  Catspeak (e) •  Ghostspeak •  Monkeyspeak (unstrung)

Others

 Accuracy •  Eternal glory •  Crone-made •  Cat training medal •  Glarial's •  Gnome •  Lunar •  Salve (e) (i) (ei) •  3rd age •  Yin Yang •  Xeric's talisman •  Amulet of the damned
Ad blocker interference detected!
Wikia is a free-to-use site that makes money from advertising. We have a modified experience for viewers using ad blockers

Wikia is not accessible if you've made further modifications. Remove the custom ad blocker rule(s) and the page will load as expected.