Amylase crystal
Release date
3 July 2014 (Update)
Members only?
Yes
Quest item?
No
Tradeable?
Yes
Equipable?
No
Stackable?
Yes
High Alch
12 coins
Low Alch
8 coins
Destroy
Drop
Store price
0.1 marks of grace
(Grace)
Exchange price

888

coins (info)
Buy limit
11,000
Weight
0 kg
Examine
Good for enhancing a super energy potion.
[view]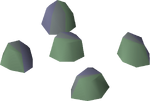 An amylase crystal is an ingredient used in making stamina potions. A player can mix amylase crystals with a Super energy potion with 77 Herblore to make a stamina potion. One amylase crystal creates one dose of stamina potion, so four amylase crystals are required to make a four dosed stamina potion. One amylase pack contains 100 amylase crystals, and costs 10 marks of grace.
In real life, amylase is an enzyme found in saliva used to break down starches.
References
Edit
↑ Mod John C. "Dev blog: Rewarding Rewards." 06-Jun-2014. Old School RuneScape General Forums.
↑ Mod Ash. "Halos, God Books & Stamina." 03-Jul-2014. Old School RuneScape General Forums.
Ad blocker interference detected!
Wikia is a free-to-use site that makes money from advertising. We have a modified experience for viewers using ad blockers

Wikia is not accessible if you've made further modifications. Remove the custom ad blocker rule(s) and the page will load as expected.