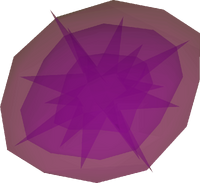 The ancient crystal is a drop obtained from revenants found in the Revenant Caves.
Four of these, along with four marble blocks and level 80 Construction, are required in order to build an obelisk in the Superior Garden of a player-owned house.
Dropping monsters
Edit
Unique drops

 Revenant cave teleport •  Bracelet of ethereum •  Revenant ether •  Ancient crystal •  Ancient emblem •  Ancient totem •  Ancient statuette

Revenants

Cyclops • Dark beast • Demon • Dragon • Goblin • Hellhound • Hobgoblin • Imp • Knight • Ork • Pyrefiend

Monsters

Ankou • Green dragon • Black dragon • Black demon • Ice giants • Lesser demon • Greater demon • Hellhound
Planks
Nails
Stonemason
Signet
Sir Renitee

Other

 Ancient crystal •  Bagged plants •  Bolt of cloth • Boss jars •  Clockwork •  Fairy enchantment •  Skull • Stuffed heads • Stuffed fish
Ad blocker interference detected!
Wikia is a free-to-use site that makes money from advertising. We have a modified experience for viewers using ad blockers

Wikia is not accessible if you've made further modifications. Remove the custom ad blocker rule(s) and the page will load as expected.