Angry is the fifth listed emote. This is one of the starting emotes, and is available as soon as players complete the tutorial.
It features the player's character waving his/her fist in the air and showing his/her anger.
When a player performs the Angry emote while wearing A powdered wig, the player stomps and flails their fists about angrily. Powdered wigs can be received through level 1 Treasure Trails clue scrolls.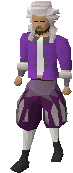 Ad blocker interference detected!
Wikia is a free-to-use site that makes money from advertising. We have a modified experience for viewers using ad blockers

Wikia is not accessible if you've made further modifications. Remove the custom ad blocker rule(s) and the page will load as expected.