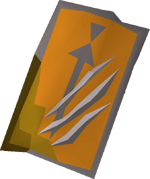 The anti-dragon shield is an item obtained from Duke Horacio in Lumbridge Castle during the Dragon Slayer quest.
The shield's defensive bonuses are roughly akin to that of the iron sq shield, and without any penalties to ranged and magic bonuses. In addition to this, the anti-dragon shield prevents a great amount of damage from dragonfire from harming the player. When used in combination with an antifire potion, the wearer does not take any damage from dragonfire until the potion runs out (except for Elvarg's dragonfire and the special attacks by the King Black Dragon).
Some players obtain multiple shields for the convenience of having them in the bank in case they die and lose one. Others get multiples so that they can sell them for a profit later on. This can still be done after the quest, if there are no shields in your bank or inventory. Duke Horacio does not notice noted anti-dragon shields, so a player may safely carry any shields previously obtained as a note and then obtain more by repeatedly dropping shields and speaking to Duke Horacio.
Players can purchase this shield from Oziach after completing Dragon Slayer. You can also just simply buy one from the Grand Exchange. You do not need to have completed Dragon Slayer to equip the shield.
With level 90 Smithing and a Draconic visage, players can upgrade the shield into the Dragonfire shield. Players who do not have the required Smithing level to make the shield can go to Oziach in Edgeville, who will smith the shield for any player at a cost of 1,250,000 coins.
Bonuses
Hover over image for type
 Attack bonus
+0
+0
+0
+0
+0
 Defence bonus
+7
+9
+8
+2
+8
Other bonuses
Slot

list

+0
0
0%
+0
Characters

Guildmaster • Oziach • Duke Horacio • Ned • Klarense • Oracle • Wormbrain • Cabin-Boy Jenkins • Elvarg

Items

 Crandor map •  Map Parts  Anti-dragon shield •  Elvarg's head

Locations

Champions' Guild • Melzar's Maze • Crandor • Crandor and Karamja Dungeon

Music

Related
Ad blocker interference detected!
Wikia is a free-to-use site that makes money from advertising. We have a modified experience for viewers using ad blockers

Wikia is not accessible if you've made further modifications. Remove the custom ad blocker rule(s) and the page will load as expected.