Old School RuneScape uses the British convention for floor numbering: Ground floor, first floor, etc.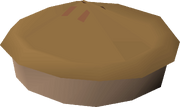 An apple pie is a food item that a player can cook at a Cooking level of 30. To make an apple pie, the player needs 1 pastry dough (by mixing together a pot of flour and a bucket/jug of water) and 1 cooking apple. Use the pastry dough with a pie dish to get a pie shell. Add a cooking apple to the pie shell to get an uncooked apple pie. A successfully cooked pie apple earn the player 130 Cooking experience. There are two halves per pie. Half apple pie is the result of eating one half of the pie. One half heals 7 Hitpoints.
One practical place to cook apple pies is the Cooks' Guild, because there are 3 spawns of cooking apples, 1 pie dish 1 jug and 1 pot. Outside there is a wheat farm where you can pick and grind into the windmill. You must have a Cooking level of 32 to be eligible, and be wearing a Chef's hat. In addition, the 1st2nd floor[?] in the Legends' Guild has a stock of 5 apple pies. Perhaps the best place to cook them is through the food stock of the Culinaromancer's Chest, as it has a continuous stock of apples, flour, necessary tools, a water source and a range in the cook's kitchen.
Pies

 Redberry •  Meat •  Mud •  Apple •  Garden •  Fish •  Botanical •  Mushroom •  Admiral •  Wild •  Summer

Raw/uncooked pies

 Redberry •  Meat •  Mud •  Apple •  Garden •  Fish •  Botanical •  Mushroom •  Admiral •  Wild •  Summer

Part pies

 Pie shell •  Mud 1 •  Mud 2 •  Garden 1 •  Garden 2 •  Fish 1 •  Fish 2 •  Admiral 1 •  Admiral 2 •  Wild 1 •  Wild 2 •  Summer 1 •  Summer 2

Ingredients

 Pastry dough •  Redberries •  Cooked meat •  Compost •  Cooking apples •  Tomato •  Onion •  Cabbage •  Trout •  Cod •  Raw potato •  Salmon •  Tuna •  Raw bear meat •  Raw chompy •  Raw rabbit •  Strawberry •  Sulliuscep cap •  Watermelon •  Golovanova fruit top