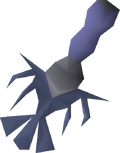 The Armadyl hilt is a rare drop from Kree'arra, in the God Wars Dungeon. Its design resembles a bird or winged being. When attached to a completed Godsword blade, which can be created by combining the three Godsword shards, it creates the Armadyl godsword.
Dropping monsters
Edit
| Monster | Combat level | Quantity | Rarity |
| --- | --- | --- | --- |
| Kree'arra | 580 | 1 | |
Godswords

 Armadyl (or) •  Bandos (or) •  Saradomin (or) •  Zamorak (or)

Armadyl armour
Bandos armour

 Chestplate •  Tassets •  Boots

Weapons

 Saradomin sword (blessed) •  Zamorakian spear (hasta) •  Staff of the dead (toxic)
 Armadyl crossbow •  Steam battlestaff (or)

Pets

 Kree'arra •  General Graardor •  Commander Zilyana •  K'ril Tsutsaroth

Other
Ad blocker interference detected!
Wikia is a free-to-use site that makes money from advertising. We have a modified experience for viewers using ad blockers

Wikia is not accessible if you've made further modifications. Remove the custom ad blocker rule(s) and the page will load as expected.