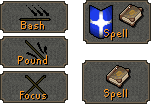 Autocast is an option of many Magic weapons, primarily staves, that can be activated on the combat section of the interface. This attack option causes players to automatically cast a selected spell when they attack, as opposed to manually selecting the spell and its target each time you wish to cast it. Once autocast has been selected, a player will continue casting spells as their default attack as long as they wield the staff and have the correct amount of runes.
Selecting the option without the shield will cast magic offensively, granting Magic experience. Selecting the "shield" option will cast magic defensively, dividing the experience gained between the Defence and Magic skills.
The spells that can be autocast vary between magic weapons. No teleportation, alchemy, curses, or enchantment spells can be autocast.
Standard/Modern
Edit
Regular staves, battlestaves, and croziers can autocast combat spells from the standard Spellbook. Certain staves can additionally autocast other spells:
Ancient Magicks
Edit
The Ancient staff, Master wand, Kodai wand, and Ahrim's staff (with Ahrim the Blighted's equipment and the Amulet of the damned) can autocast the Ancient Magicks.
Ad blocker interference detected!
Wikia is a free-to-use site that makes money from advertising. We have a modified experience for viewers using ad blockers

Wikia is not accessible if you've made further modifications. Remove the custom ad blocker rule(s) and the page will load as expected.