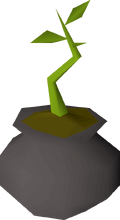 A bagged plant 1 can be bought in Falador from the Garden supplier for 1,000 coins. They can be planted in the garden of your Player-owned house if you have a Watering can, and a Construction level of 1 or higher, providing 31 experience to both Construction and Farming. It is only for decoration.
When built in a house, they will turn into one of the following:
Garden
Formal Garden

| | |
| --- | --- |
| Hedges |  Thorny •  Nice •  Small box •  Topiary •  Fancy •  Tall fancy •  Tall box |
| Flowers |  Rosemary •  Daffodils •  Bluebells •  Sunflower •  Marigolds •  Roses |
Ad blocker interference detected!
Wikia is a free-to-use site that makes money from advertising. We have a modified experience for viewers using ad blockers

Wikia is not accessible if you've made further modifications. Remove the custom ad blocker rule(s) and the page will load as expected.