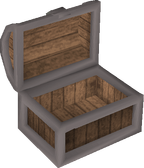 A bank chest is an interactive scenery item that allows quick access to a player's bank account, usually found in remote locations or places where a normal bank would not fit. Like any other banking facility it is indicated with a bank icon (
). Bank chests can be found in the following locations:
These chests used to be very popular for training skills at a bank, because they can be opened with a left-click. This advantage was applied to bank booths on 21 March 2013, making banks and chests equally advantageous.
Ad blocker interference detected!
Wikia is a free-to-use site that makes money from advertising. We have a modified experience for viewers using ad blockers

Wikia is not accessible if you've made further modifications. Remove the custom ad blocker rule(s) and the page will load as expected.