Barbed bolts
Release date
3 March 2004 (Update)
Members only?
Yes
Quest item?
No
Tradeable?
Yes
Equipable?
Yes
Stackable?
Yes
High Alch
120 coins
Low Alch
80 coins
Destroy
Drop
Store price
Not sold
Exchange price

54

coins (info)
Buy limit
Unknown
Weight
0 kg
Examine
Great if you have a crossbow!
[view]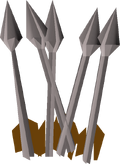 Barbed bolts are bronze bolts with barbed tips. Barbed bolts can be created through the Fletching skill at level 51, simply by using barb bolttips with bronze bolts. 30 barbed bolt tips can be obtained from the Ranging Guild in exchange for 140 archery tickets. For each barbed bolt tip attached to a bronze bolt, a player is granted 9.5 Fletching experience.
Bonuses
Hover over image for type
 Attack bonus
+0
+0
+0
+0
+0
 Defence bonus
+0
+0
+0
+0
+0
Other bonuses
Slot

list

+0
+12
+0%
+0
Metal bolts

 Bronze (unf) •  Blurite (unf) •  Silver (unf) •  Iron (unf) •  Steel (unf) •  Mithril (unf) •  Adamant (unf) •  Runite (unf) •  Dragon (unf)

Bolt tips

 Opal •  Jade •  Pearl •  Topaz •  Sapphire •  Emerald •  Ruby •  Diamond •  Amethyst •  Dragonstone •  Onyx

Gem-tipped bolts

 Opal (e) •  Jade (e) •  Pearl (e) •  Topaz (e) •  Sapphire (e) •  Emerald (e) •  Ruby (e) •  Diamond (e) •  Dragonstone (e) •  Onyx (e)

Dragon gem-tipped bolts

 Opal (e) •  Jade (e) •  Pearl (e) •  Topaz (e) •  Sapphire (e) •  Emerald (e) •  Ruby (e) •  Diamond (e) •  Dragonstone (e) •  Onyx (e)

Other bolts

 Enchanted •  Barbed •  Bone •  Mith grapple (unf) (tip) •  Bolt rack •  Kebbit •  Long kebbit •  Broad (unf) •  Amethyst