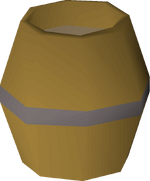 A Barrel of naphtha is used in the Regicide and Mourning's Ends Part I quests. It is used as an explosive and as a poison, respectively.
It is obtained by filling a barrel with coal-tar, and then taking it to the Chemist's house in Rimmington, before using Coal to distill it.
Instructions: First, use the barrel of coal-tar with the Fractionation still.
Then, click the right side of the valve to the right twice, so the tar should be flowing at maximum. You should see the 'pressure' indicator on the left go up. When the indicator reaches the green region, click the right side of the valve on the left once to let out pressure. This should stall the indicator on the left. Now you can start to add more coal. If it's above, don't add coal until it drops. The bar on the bottom will start turning green. When it's full, you can stop adding coal and close the window on the top right to get your barrel of naphtha.
Unsurprisingly, a Barrel of naphtha is tied for the heaviest item in RuneScape, weighing at 32 kg, and letting a player hold 896 kg of weight, with a full inventory.
Characters

Arianwyn • Eluned • Oronwen • Elena • Mourner • Head mourner • Tegid • Gnome • Slave

Items

 Teleport crystal •  Sieve •  Tegid's soap •  Tarnished key •  Mourner letter •  Prifddinas' history

Fractionation still

 Big book of bangs •  Toxic powder •

| | |
| --- | --- |
| Barrels |  Barrel •  Apple •  Rotten apples •  Coal-tar •  Naphtha •  Toxic naphtha •  Naphtha apple mix |

Mourner outfit

Coloured toads

| | |
| --- | --- |
| Devices | |
| Swamp toads | |
| Ogre bellows | |

Locations

Isafdar • Mourner Headquarters • Mourner Tunnels • Poison Waste • West Ardougne

Music

Miscellaneous
Ad blocker interference detected!
Wikia is a free-to-use site that makes money from advertising. We have a modified experience for viewers using ad blockers

Wikia is not accessible if you've made further modifications. Remove the custom ad blocker rule(s) and the page will load as expected.