The barrelchest anchor is obtained by killing the Barrelchest monster in The Great Brain Robbery quest. You need 60 Attack and 40 Strength to wield it. The anchor's stats are almost equal to Dharok's Greataxe. Upon completion of The Great Brain Robbery the player must pay 230k to repair the anchor in order for it to be used as a weapon after purchasing a broken anchor from brother tranquility. The anchor can be repaired by Smith on the docks of Mos Le'Harmless. Note, Book o' piracy is needed to properly speak with Smith. Alternatively, players can purchase one from Perdu for 290,000 coins.
The barrelchest anchor is mostly known as a PKing weapon, used in combos such as Anchor to Granite Maul specials. The reason why this particular combo is so effective is due to the fact that the Barrelchest Anchor has a delayed hit, allowing it to easily stack with the maul's two blows.
If lost, it can be re-obtained by talking to the monk, Brother Tranquility, on Mos Le'Harmless to receive another broken anchor which can once again be fixed by Smith for 230,000 coins. The book o' piracy is required in order to communicate with Smith.
Special attack
Edit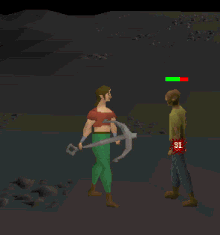 The barrelchest anchor has a special attack, Sunder, which doubles the player's accuracy, increases max damage by 10%, and lowers the opponent's Attack, Defence, Ranged, or Magic level by 10% of the damage dealt. This consumes 50% of the player's special attack energy.
Bonuses
Hover over image for type

A player wielding a Barrelchest anchor.
 Attack bonus
-2
+10
+92
+0
+0
 Defence bonus
+0
+0
+0
+0
+0
Other bonuses
Slot

list

+100
0
0%
+0
Combat styles
Edit
Mace

 Bronze •  Iron •  Steel •  Black •  White •  Ancient •  Mithril •  Adamant •  Rune •  Tzhaar-ket-em •  Dragon

Warhammer

 Bronze •  Iron •  Steel •  Black •  White •  Mithril •  Adamant •  Rune •  Granite •  Dragon

Cane
Kitchen weaponry
Maul
Mjolnir

Other

 Hill giant club •  Barrelchest anchor •  Verac's flail •  Torag's hammers •  Abyssal bludgeon
Characters

Brother Tranquility • Mi-Gor • Dr Fenkenstrain • Rufus • Monk • Zombie monk • Zombie pirate • Sorebones • Barrelchest

Items

 Prayer book •  Crate part •  Wolf whistle •  Wooden cat •  Shipping order •  Bell jar •  Brain tongs •  Cranial clamp •  Skull staple •  Fuse •  Keg

Rewards

 Barrelchest anchor •  Blessed lamp

Locations

Music

Related
Ad blocker interference detected!
Wikia is a free-to-use site that makes money from advertising. We have a modified experience for viewers using ad blockers

Wikia is not accessible if you've made further modifications. Remove the custom ad blocker rule(s) and the page will load as expected.