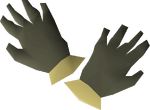 Barrows gloves are the best pair of gloves that exist in Old School RuneScape. They can be purchased for 130,000 coins from the Culinaromancer's Chest in the Lumbridge Castle cellar after completing the entire Recipe for Disaster quest. Barrows gloves provide the best offensive statistics for Melee and Ranged, having better stats than black d'hide vambraces. They have the second highest Magic offensive bonus behind the Tormented Bracelet, which lacks any defensive statistics. They also have the highest Strength bonus of any gloves in the game; however, they do not give any bonus to Prayer.
While these gloves lack a Defence requirement, they cannot be acquired at 1 Defence because of the experience gained from completing the necessary quests to wear them. (41 Defence is the lowest level currently possible in Old School RuneScape after all the required quests are completed, with Deadman mode as an exception as levels can be lost on death.)
The price of all Culinaromancer's gloves can be reduced by completing the Lumbridge & Draynor elite diaries, bringing down the price for Barrows and Dragon gloves to 104,000 coins.
Bonuses
Hover over image for type

A player wearing Barrows gloves
 Attack bonus
+12
+12
+12
+6
+12
 Defence bonus
+12
+12
+12
+6
+12
Other bonuses
Slot

list

+12
0
0%
+0

 Hardleather •

 Bronze •

 Iron •

 Steel •

 Black •

 Mithril •

 Adamant •
 Rune •

 Dragon •

 Barrows
Ad blocker interference detected!
Wikia is a free-to-use site that makes money from advertising. We have a modified experience for viewers using ad blockers

Wikia is not accessible if you've made further modifications. Remove the custom ad blocker rule(s) and the page will load as expected.