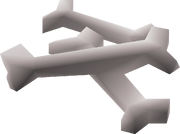 Bat bones are a type of bone which are dropped by bats and giant bats. When buried they give 5.3 Prayer experience, 17% more than normal bones, which give 4.5 experience.
Players will need bat bones for some quests, including Merlin's Crystal, Forgettable Tale of a Drunken Dwarf and Watchtower.
Dropping monsters
Edit
Standard bones
Draconic bones

 Baby dragon •  Dragon •  Wyvern •  Lava dragon •  Superior

Monkey bones

 Karamjan •  Small zombie •  Big zombie •  Gorilla •  Bearded gorilla •  Small ninja •  Medium ninja •  Skeleton gorilla

Ogre bones

 Jogre (Burnt) (Pasty) (Marinated) •  Zogre •  Fayrg •  Raurg •  Ourg

Enriched bones

Special bones

 Curved •  Long •  Chewed •  Mangled •  Shaikahan •  Sheep (1) (2) (3) (4)
Ad blocker interference detected!
Wikia is a free-to-use site that makes money from advertising. We have a modified experience for viewers using ad blockers

Wikia is not accessible if you've made further modifications. Remove the custom ad blocker rule(s) and the page will load as expected.