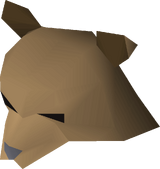 A Bearhead is a piece of low level headgear that is obtained after killing The Kendal in the Mountain Daughter quest.
This helmet is popular amongst 1 Defence pures as it has amongst the highest stats for a helmet that requires level 1 Defence, with defensive bonuses comparable to a Black full helm. It is also popular among Abyss runecrafters as it has zero weight. Of particular note is its relatively high Magic defence. With a bonus of +7, its Magic defence is superior to every other piece of headgear in the game aside from the 3rd age mage hat, the Armadyl helmet, the Healer hat, the Slayer helmet (i), and the halos from Castle Wars.
You do not have to fully complete the quest to equip the bearhead. However, if you lose your bearhead without completing the quest, you cannot get a new one before completing the quest - requiring you to get 2,000 Prayer exp for completing it to get your bearhead back.
If lost you can speak to Hamal the Chieftain to obtain another bearhead for free. You cannot have more than one at a time, unless you drop the hat and obtain another then use Telekinetic Grab on the dropped one.
Bonuses
Hover over image for type
 Attack bonus
+0
+0
+0
-3
-3
 Defence bonus
+12
+14
+10
+7
+9
Other bonuses
Slot

list

+0
0
0%
+0
Ad blocker interference detected!
Wikia is a free-to-use site that makes money from advertising. We have a modified experience for viewers using ad blockers

Wikia is not accessible if you've made further modifications. Remove the custom ad blocker rule(s) and the page will load as expected.