The Beckon emote is unlocked upon leaving Tutorial Island. Every player can use it.
If a member has done the Tower of Life quest, the player can either wear a piece of the Builder's costume or wield a satchel to enhance the emote. Only one piece of the Builder's costume is needed to enhance the emote. The enhanced emote consists of a player inhaling a deep breath, whistling, and beckoning with an arm motion.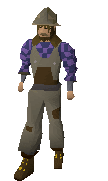 Ad blocker interference detected!
Wikia is a free-to-use site that makes money from advertising. We have a modified experience for viewers using ad blockers

Wikia is not accessible if you've made further modifications. Remove the custom ad blocker rule(s) and the page will load as expected.