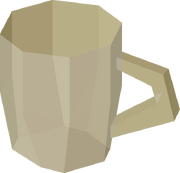 Beer glasses are obtained by drinking certain beverages (such as beer), or from the shelves in the Sorceress's house or from a kitchen shelf (Wooden shelves 2 or higher) of a player-owned house. They can also be made with molten glass using the Crafting skill.
A quick way to acquire beer glasses would be to buy drinks in Burthorpe pub, the Toad and Chicken go down into rogues' den, and repeat. Drink afterwards.
 Molten glass

Products

 Beer glass •  Candle lantern •  Oil lamp •  Vial •  Fishbowl •  Unpowered orb •  Lantern lens •  Empty light orb

Materials
Ad blocker interference detected!
Wikia is a free-to-use site that makes money from advertising. We have a modified experience for viewers using ad blockers

Wikia is not accessible if you've made further modifications. Remove the custom ad blocker rule(s) and the page will load as expected.