Belladonna seed
Release date
11 July 2005 (Update)
Farming level
63
Exchange price

51

coins (info)
Patch
Belladonna
Time
320 min (4x80 min)
Planting XP
91
Check-health XP
N/A
Harvesting XP
512
Payment
N/A
Tradeable?
Yes
High alch
106 coins
Low alch
70 coins
Store price
Not sold
Examine
Also known as Deadly Nightshade - plant in a belladonna patch.
[view] • [talk]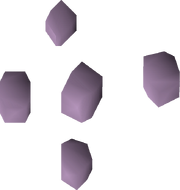 A Belladonna seed is used in Farming, and grows into cave nightshade. Players can only plant it in the belladonna patch, which is located at Draynor Manor. They require level 63 Farming to plant the seed, and players gain 91 experience for planting it and 512 experience for successfully harvesting it, yielding 3 nightshades.
There is no nearby gardener that will watch over your growing belladonna plant. Although, a Tool leprechaun can be found next to the patch.
It will take 5 hours and 20 minutes to grow.
Farmers must pick nightshade with gloves equipped, or they will be hit for 2 poison damage instead of harvesting the nightshade. Certain decorative gloves, such as Mime gloves, do not work safely. Some other items that go in the hand slot also work, like the Regen bracelet.
It can be pickpocketed from Master Farmers.
Dropping monsters
Edit
Probably named from the real world plant Atropa belladonna, which is sometimes called "belladonna" or "nightshade," or even "deadly nightshade." In older times it was used in making not only poisons, but medicines, recreational drugs, and cosmetics.
"Bella donna" means "beautiful woman" in Italian, because the drops were mainly used to dilate a woman's pupils, making her more attractive by the times' standard.
Allotment

 Potato •  Onion •  Cabbage •  Tomato •  Sweetcorn •  Strawberry •  Watermelon

Flower

 Marigold •  Rosemary •  Nasturtium •  Woad •  Limpwurt

Herb

 Guam •  Marrentill •  Tarromin •  Harralander •  Gout tuber •  Ranarr •  Toadflax •  Irit •  Avantoe •  Kwuarm •  Snapdragon •  Cadantine •  Lantadyme •  Dwarf weed •  Torstol

Hop

 Barley •  Hammerstone •  Asgarnian •  Jute •  Yanillian •  Krandorian •  Wildblood

Bush

 Redberry •  Cadavaberry •  Dwellberry •  Jangerberry •  Whiteberry •  Poison ivy

Tree
Fruit tree

 Apple tree •  Banana tree •  Orange tree •  Curry tree •  Pineapple •  Papaya tree •  Palm tree

Special seeds

 Seaweed •  Teak •  Grape •  Mushroom •  Mahogany •  Cactus •  Belladonna •  Calquat •  Spirit

Other seeds

 Blindweed •  Crystal (small) •  Grass •  Hardy gout tuber •  Hardy gout tubers •  Kelda •  Pine tree •  White pearl

| | |
| --- | --- |
| Tithe Farm seeds | |
| Chambers of Xeric | |
| Garden of Tranquillity |  Delphinium •  Pink orchid •  Pink rose •  Red rose •  Snowdrop •  Vine •  White rose •  Yellow orchid |