Start point
Speak to Rantz, far east of Feldip Hills.
Official difficulty
Intermediate
Description
Rantz the Ogre needs to feed his demanding children, Fycie and Bugs, so he wants to go Big Chompy Bird hunting. Problem is, he's all fingers and thumbs when it comes to making ogre arrows.

Could someone please give him a hand?

Length
Short-medium
Requirements
Items required
Enemies to defeat
Level 64 wolves (optional)
Walkthrough
Edit
Getting Started
Edit
Fletching Some Arrows
Edit
Bloated Toads
Edit
Ask Rantz all possible questions.
Enter the cave north of Rantz.
Attempt to unlock the chest until it opens and search it.
At the nearby swamp (southwest), look for swamp bubbles and use the bellows on them.
Use the bellows on a swamp toad.

Collect 2 to save you a trip in future
Talk to Rantz.
Drop a Bloated toad where the arrow points.
After Rantz fires his bow, talk to him to receive an Ogre bow. (Chat 2-1)
Place another toad in the clearing.
Kill the Chompy bird that appears with the Ogre bow.
Pluck the carcass and take the Raw chompy.
Talk to Rantz.
Cooking the Bird
Edit
Go back into the cave and talk to Fycie and Bugs.
Obtain the ingredients that they ask for and use the Raw chompy on the spit-roast north of Rantz.
Talk to Rantz.
Quest complete!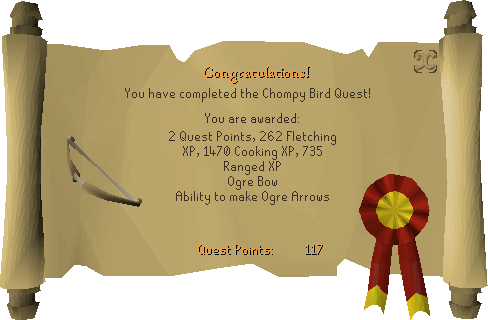 Required for completing
Edit
Completion of Big Chompy Bird Hunting is required for the following:
Ad blocker interference detected!
Wikia is a free-to-use site that makes money from advertising. We have a modified experience for viewers using ad blockers

Wikia is not accessible if you've made further modifications. Remove the custom ad blocker rule(s) and the page will load as expected.