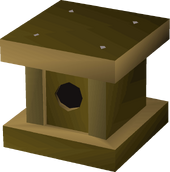 Bird houses are used in setting bird house traps on Fossil Island, requiring a Hunter level of 5 to use. They are made by using logs on a piece of clockwork while having a hammer and chisel, requiring a Crafting level of 5, and granting the player 15 experience.
The bird house must be filled with hop seeds as bait. After doing so, the bird house will passively capture birds. It can trap up to ten birds, granting 280 experience if the birdhouse is full, which will take approximately 50 minutes.
General

 Pickaxe •  Axe •  Hammer •  Chisel •  Knife •  Tinderbox •  Shears •  Pestle and mortar •  Saw (crystal) •  Machete (opal) (jade) (red topaz)

Fishing

 Fishing rod •  Small fishing net •  Big fishing net •  Fly fishing rod •  Harpoon •  Lobster pot •  Barbarian rod

Crafting

 Needle •  Glassblowing pipe •  Amulet mould •  Bracelet mould •  Necklace mould •  Ring mould •  Tiara mould •  Ammo mould •  Bolt mould •  Holy mould •  Unholy mould •  Sickle mould

Hunter

 Noose wand •  Butterfly net (Magic) •  Bird snare • Rabbit snare •  Teasing stick •  Box trap •

Bird houses

 Regular •  Oak •  Willow •  Teak •  Maple •  Mahogany •  Yew •  Magic •  Redwood
Ad blocker interference detected!
Wikia is a free-to-use site that makes money from advertising. We have a modified experience for viewers using ad blockers

Wikia is not accessible if you've made further modifications. Remove the custom ad blocker rule(s) and the page will load as expected.