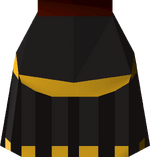 A Black plateskirt (g) is an item that can be obtained as a reward from Level 1 Treasure trails.
They have the same bonuses as a normal Black plateskirt. It requires 10 defence to wear.
This Armour is mainly used for decorative purposes, not for the Defence bonuses as the normal black plateskirt has the same stats and is cheaper.
Bonuses
Hover over image for type
 Attack bonus
+0
+0
+0
-21
-7
 Defence bonus
+21
+20
+19
-4
+20
Other bonuses
Slot

list

+0
0
0%
+0
Standard

 Bronze •  Iron •  Steel •  Black •  White •  Mithril •  Adamant •  Rune •  Dragon

Treasure Trails

| | |
| --- | --- |
| Trimmed | |
| Gold-trimmed |  Bronze •  Iron •  Steel •  Black •  Mithril •  Adamant •  Rune •  Dragon •  Gilded |
| God | |

Other
Weapons

 Dagger •  Axe •  Mace •  Claws •  Sword •  Longsword •  Scimitar
 Spear •  Warhammer •  Battleaxe •  Two-hander •  Halberd •  Pickaxe •  Cane

Armour

 Medium helm •  Full helm (t) (g) •  Square shield •  Kiteshield (t) (g)
 Chainbody •  Platebody (t) (g) •  Plateskirt (t) (g) •  Platelegs (t) (g) •  Boots
 Gloves •  Defender

Black heraldic armour

| | |
| --- | --- |
| Type 1 | |
| Type 2 | |
| Type 3 | |
| Type 4 | |
| Type 5 | |

Ranged

Other