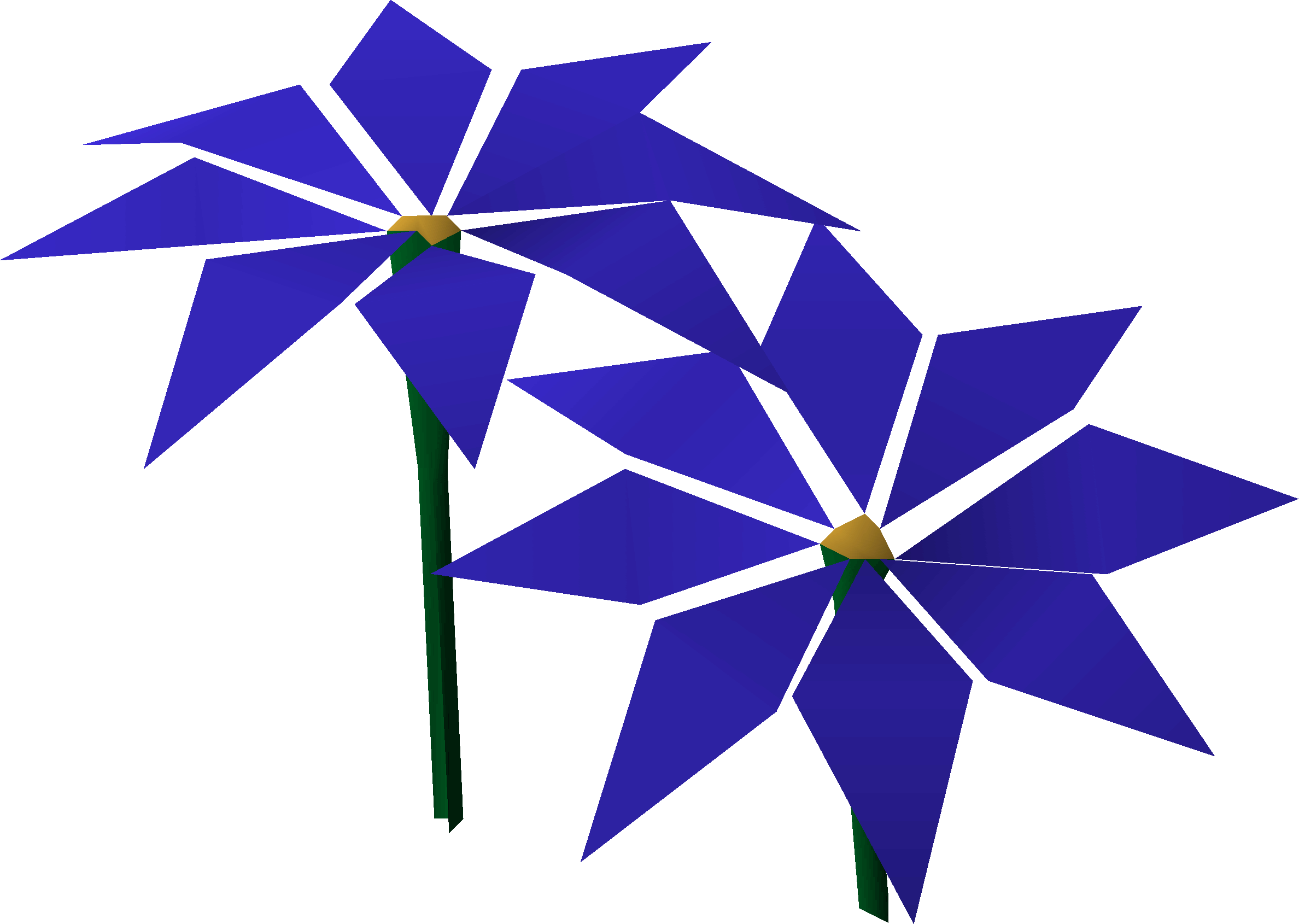 Blue flowers are an item obtained within the Trouble Brewing minigame. Blue flowers and red flowers are found in the minigame on opposite sides for each team. Team members must collect these coloured flowers in order to make their specific teams coloured water which is then used as an ingredient in the 'rum'. These flowers cannot be taken out of the minigame but are tradeable within, and have a trade value of 1 coin.
NPCs

Honest Jimmy • San Fan • Fancy Dan • Parrots

Gameplay items

 Blue flowers •  Red flowers •  Bowl of blue water •  Bowl of red water •  Monkey •  Blue monkey •  Red monkey •  Bitternut •  logs •  Bucket •  Bucket of water •  Raw rat meat •  Sweetgrubs •  Scrapey tree logs •  Scrapey bark •  Torch •  Pipe section •  Lumber patch •  Bridge section

Rewards

 Pieces of eight

Flags

 Cutthroat flag •  Guilded smile flag •  Bronze fist flag •  Lucky shot flag •  Treasure flag •  Phasmatys flag

Naval clothing

Miscellaneous

Other
Seeds

 Marigold seed •  Rosemary seed •  Nasturtium seed •  Woad seed •  Limpwurt seed

Garden of Tranquillity

 Delphinium •  Pink orchid •  Pink rose •  Red rose •  Snowdrop •  White rose •  Yellow orchid

Farmed flowers

 Marigolds •  Rosemary •  Nasturtiums •  Woad leaf •  Limpwurt root

POH

 Thistle •  Sunflower •  Marigolds •  Roses •  Rosemary •  Daffodils •  Bluebells

Coloured

 Mithril seeds •  Assorted flowers •  Black flowers •  Blue flowers •  Mixed flowers •  Orange flowers •  Purple flowers •  Red flowers •  White flowers •  Yellow flowers

Other

 Blue flowers •  Cicely •  Exotic flower •  Medivaemia blossom •  Red flowers •  Star flower •  Trollweiss •  Troll thistle
Ad blocker interference detected!
Wikia is a free-to-use site that makes money from advertising. We have a modified experience for viewers using ad blockers

Wikia is not accessible if you've made further modifications. Remove the custom ad blocker rule(s) and the page will load as expected.