Bone daggers can be bought from Nardok's Bone Weapons in the Dorgeshuun Mines outside Dorgesh-Kaan for 2,000 coins. They can also be poisoned.
Its stats are the same as those of the iron dagger.
Bonuses
Hover over image for type
 Attack bonus
+5
+3
-4
+1
+0
 Defence bonus
+0
+0
+0
+1
+0
Other bonuses
Slot

list

+4
0
0%
+0
Combat styles
Edit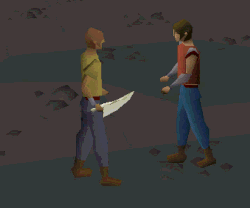 Special attack
Edit
The bone dagger has a special attack, Backstab, which is more accurate on an unsuspecting target (i.e. a target facing away from the player), and lowers the target's Defence by the amount of damage dealt, similar to the Bandos godsword special attack.
The special attack can only be used after completing the Death to the Dorgeshuun quest, but it can be poisoned without completing the quest .
Dagger

 Bronze •  Iron •  Bone •  Steel •  Black •  White •  Mithril •  Adamant •  Rune •  Toktz-xil-ek •  Dragon •  Abyssal

Sword

 Training •  Wooden •  Bronze •  Iron •  Steel •  Black •  White •  Mithril •  Adamant •  Rune •  Leaf-bladed •  Toktz-xil-ak •  Dragon

Spear

 Bronze •  Iron •  Bone •  Steel •  Black •  Mithril •  Adamant •  Rune •  Gilded •  Leaf-bladed •  Dragon •  Guthan's •  Zamorakian

Hasta

 Bronze •  Iron •  Steel •  Mithril •  Adamant •  Rune •  Gilded •  Zamorakian

Other

 Egg whisk •  Spork •  Kitchen knife •  Rapier •  Wolfbane •  Keris •  Dark •  Glowing

 Bone dagger •

 Bone spear •

 Bone club •

 Dorgeshuun crossbow •

 Bone bolts