Border Guards are Non-player characters whom patrol the border gate between eastern Lumbridge and north-western Al Kharid, charging an entry fee of 10gp provided the player has not completed Prince Ali Rescue. Once the quest has been completed, the right click option "pay-toll-10gp" is still effective, and will not charge the fee.
They appear to be wielding a Steel halberd.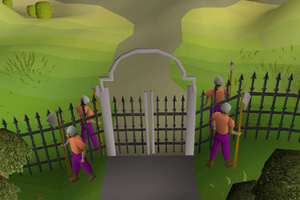 Ad blocker interference detected!
Wikia is a free-to-use site that makes money from advertising. We have a modified experience for viewers using ad blockers

Wikia is not accessible if you've made further modifications. Remove the custom ad blocker rule(s) and the page will load as expected.