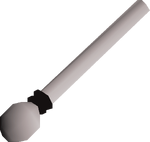 The bottom of sceptre is one of 4 parts of a skull sceptre. It can be obtained from Flesh Crawlers in the second level of the Stronghold of Security. The other parts of the sceptre must be obtained from a minotaur, an ankou, and a catablepon. As with the other parts of the sceptre, this item cannot be traded. The bottom of sceptre can be combined with the top of sceptre to create a runed sceptre.
Dropping monsters
Edit
| Monster | Combat level | Quantity | Rarity |
| --- | --- | --- | --- |
| Flesh Crawler | 28; 35; 41 | 1 | |
 Strange skull
 Runed sceptre

 Bottom of sceptre •  Top of sceptre
Ad blocker interference detected!
Wikia is a free-to-use site that makes money from advertising. We have a modified experience for viewers using ad blockers

Wikia is not accessible if you've made further modifications. Remove the custom ad blocker rule(s) and the page will load as expected.