For all items and their stats worn in this slot, see
this table
.
This article is about the weapon. For the emote, see
Bow (emote)
.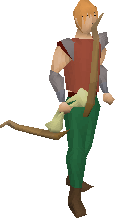 Bows are ranged weapons, that can be crafted using the fletching skill. Bows require arrows to shoot. There are two different kinds of bows: Shortbows and longbows. Shortbows attack faster but have a shorter attack range than longbows. Longbows have longer range but have a slower attack speed. Composite bows have the same attack range as longbows, but fire slightly faster and have slightly higher accuracy.
Free-to-play bows
Edit
Members bows
Edit
The bow string of any given bow is not visible when wielded by players. This is most likely due to graphical limitations.
Real-life bows are traditionally held in the left, or non-dominant, hand. However, in Old School Runescape, the player character wields bows in the right hand despite being "right handed".
Ad blocker interference detected!
Wikia is a free-to-use site that makes money from advertising. We have a modified experience for viewers using ad blockers

Wikia is not accessible if you've made further modifications. Remove the custom ad blocker rule(s) and the page will load as expected.