Bow is the third listed emote. Upon the use of this emote, the player bows with his or her right hand crossing over the waist. This is one of the starting emotes, and is available as soon as players leave Tutorial Island.
When a player performs the Bow emote while wearing Pantaloons, the player twirls their hands in front of their stomach while bowing. Pantaloons can be received through level 1 treasure trail clue scrolls.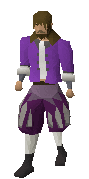 Ad blocker interference detected!
Wikia is a free-to-use site that makes money from advertising. We have a modified experience for viewers using ad blockers

Wikia is not accessible if you've made further modifications. Remove the custom ad blocker rule(s) and the page will load as expected.