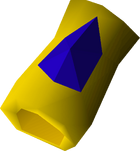 A bracelet of clay allows players to mine soft clay instead of hard clay.
It is made by enchanting a sapphire bracelet by casting Lvl-1 Enchant. The sapphire bracelet can be made by using a gold bar and sapphire on a furnace with a bracelet mould in your inventory, which requires level 23 crafting.
A player may mine 28 soft clay before the bracelet disintegrates. The player can see how many more soft clay it can mine by equipping it and then clicking "check". The bracelet can be useful for making magic tablets in a player-owned house, as the Rimmington mine contains clay and is very close to a house portal.
Bonuses
Hover over image for type
 Attack bonus
+0
+0
+0
+0
+0
 Defence bonus
+0
+0
+0
+0
+0
Other bonuses
Slot

list

+0
0
0%
+0
Standard

 Gold •  Opal •  Sapphire •  Jade •  Emerald •  Topaz •  Ruby •  Diamond •  Dragonstone •  Onyx •  Zenyte

Enchanted

 Expeditious •  Clay •  Flamtaer •  Castle wars •  Slaughter •  Inoculation •  Abyssal •  Combat •  Regeneration •  Tormented

Other

 Ethereum
Ad blocker interference detected!
Wikia is a free-to-use site that makes money from advertising. We have a modified experience for viewers using ad blockers

Wikia is not accessible if you've made further modifications. Remove the custom ad blocker rule(s) and the page will load as expected.