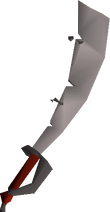 The brine sabre is a one-handed weapon that requires an Attack level of 40 to wield. It is dropped by brine rats in the small cave accessed during Olaf's Quest. The brine sabre is a slightly better alternative to a rune scimitar, boasting a bonus of +2 to both strength and slash when compared to the former. However, it is significantly more expensive due to the fact it is only dropped by a single, rarely-killed Slayer monster at a rate of 1/512.
Brine sabres can finish off rockslugs without the use of a bag of salt. It is also one of the only weapons that can be used to kill lobstrosities.
It is required for a master clue scroll.
Bonuses
Hover over image for type

A player wielding a brine sabre.
 Attack bonus
+7
+47
-2
+0
+0
 Defence bonus
+0
+0
+0
+0
+0
Other bonuses
Slot

list

+46
0
0%
+0
Special attack
Edit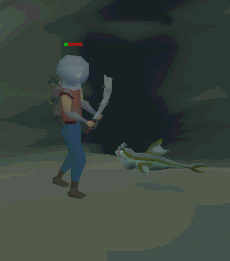 The brine sabre has a special attack, Liquefy, which doubles the player's accuracy, and adds 25% of the damage to the player's Strength, Attack and Defence.
The special attack only works underwater, and consumes 75% of the player's special attack energy.
Combat styles
Edit
Scimitar

 Bronze •  Iron •  Steel •  Black •  White •  Mithril •  Adamant •  Rune •  Gilded •  Dragon (or)

Longsword

 Bronze •  Iron •  Steel •  Black •  White •  Mithril •  Adamant •  Katana •  Rune •  Granite •  Dragon •  3rd age

Battleaxe

 Bronze •  Iron •  Steel •  Black •  White •  Mithril •  Adamant •  Rune •  Leaf-bladed •  Dragon

Claws

 Bronze •  Iron •  Steel •  Black •  White •  Mithril •  Adamant •  Rune •  Dragon

Halberd

 Bronze •  Iron •  Steel •  Black •  White •  Mithril •  Adamant •  Rune •  Dragon •  Crystal

Two-handed sword

| | |
| --- | --- |
| Standard |  Bronze •  Iron •  Steel •  Black •  White •  Mithril •  Adamant •  Rune •  Gilded •  Dragon |
| Godswords | |
| Other | |

Quests

 Blurite •  Anger sword •  Anger battleaxe •  Excalibur •  Silverlight •  Darklight •  Wooden spoon •  Skewer •  Cleaver

Castle Wars

Other

 Iron sickle •  Silver sickle (b) •  Starter sword •  Spear •  Harry's cutlass •  Lucky cutlass •  Brine sabre •  Fremennik •  Arclight •  Abyssal whip (volcanic) (frozen) •  Abyssal tentacle •  Scythe of vitur