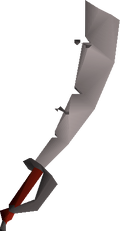 Brine sabre is a one-handed weapon that requires an Attack level of 40 to wield. It is dropped by brine rats in the small cave accessed during Olaf's Quest. The brine sabre is a slightly better alternative to a rune scimitar, boasting a bonus of +2 to both strength and slash when compared to the former. However, it is significantly more expensive due to the fact it is only dropped by a single, rarely-killed Slayer monster at a rate of 1/512.
The brine sabre has a special attack named Liquefy, that doubles the chance of hitting and adds 25% of the damage to the player's Strength, Attack and Defence. The special attack only works underwater and drains 75% of the special attack bar.
Due to its substantial power and low requirements, it is also a popular weapon for low-level players and pures.
The Brine sabre is required for a Master Emote Clue.
As of an update on 28 July 2016, brine sabres can now kill rockslugs without the use of a bag of salt.
Bonuses
Hover over image for type

A player wielding a brine sabre.
 Attack bonus
+7
+47
-2
+0
+0
 Defence bonus
+0
+0
+0
+0
+0
Other bonuses
Slot

list

+46
0
0%
+0
Ad blocker interference detected!
Wikia is a free-to-use site that makes money from advertising. We have a modified experience for viewers using ad blockers

Wikia is not accessible if you've made further modifications. Remove the custom ad blocker rule(s) and the page will load as expected.