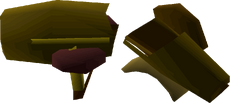 The broken device is a quest item used in the Mourning's Ends Part I quest. It is given to the player by the Head mourner in West Ardougne and the player must have it repaired by a gnome who is being held captive by the mourners. The gnome will repair the device, turning it into a fixed device, but only after the player has tickled his feet with feathers and given him some toad crunchies.
The broken device can be re-obtained from the chest in the Head Mourner's office. To get it fixed, you will need a Tarnished key, a piece of Leather, a Magic log and some Toad crunchies. The gnome will still repair it after Mourning's Ends Part I is complete.
Characters

Arianwyn • Eluned • Oronwen • Elena • Mourner • Head mourner • Tegid • Gnome • Slave

Items

 Teleport crystal •  Sieve •  Tegid's soap •  Tarnished key •  Mourner letter •  Prifddinas' history

Fractionation still

 Big book of bangs •  Toxic powder •

| | |
| --- | --- |
| Barrels |  Barrel •  Apple •  Rotten apples •  Coal-tar •  Naphtha •  Toxic naphtha •  Naphtha apple mix |

Mourner outfit

Coloured toads

| | |
| --- | --- |
| Devices |  Fixed •  Broken |
| Swamp toads | |
| Ogre bellows | |

Locations

Isafdar • Mourner Headquarters • Mourner Tunnels • Poison Waste • West Ardougne

Music

Miscellaneous
Ad blocker interference detected!
Wikia is a free-to-use site that makes money from advertising. We have a modified experience for viewers using ad blockers

Wikia is not accessible if you've made further modifications. Remove the custom ad blocker rule(s) and the page will load as expected.