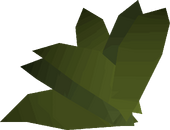 Clean cadantine is a high level herb. It is used to make super defence potions at level 66 Herblore. Players can obtain it by cleaning a Grimy cadantine at level 65 Herblore, which gives 12.5 Herblore experience for cleaning. When used in conjunction with White berries it makes a super defence potion which gives 150 Herblore experience. Chaos druids are mainly killed to get cadantine drops. Aberrant spectres also drop cadantine herbs often.
Normal herbs

 Guam leaf (Grimy) •  Marrentill (Grimy) •  Tarromin (Grimy) •  Harralander (Grimy) •  Ranarr weed (Grimy) •  Toadflax (Grimy) •  Irit leaf (Grimy) •  Avantoe (Grimy) •  Kwuarm (Grimy) •  Snapdragon (Grimy) •  Cadantine (Grimy) •  Lantadyme (Grimy) •  Dwarf weed (Grimy) •  Torstol (Grimy)

Special herbs

 Ardrigal (Grimy) •  Bruma herb •  Doogle leaves •  Goutweed •  Rogue's purse (Grimy) •  Sito foil (Grimy) •  Snake weed (Grimy) •  Volencia moss (Grimy)

Chambers of Xeric
Ad blocker interference detected!
Wikia is a free-to-use site that makes money from advertising. We have a modified experience for viewers using ad blockers

Wikia is not accessible if you've made further modifications. Remove the custom ad blocker rule(s) and the page will load as expected.