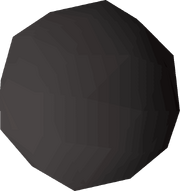 The cannon ball is used in the Cabin Fever quest. Players may obtain these cannon balls from the gun Locker, a deck below the ship, and must use three of them to sink the opposing ship during the quest.
Unfortunately, players may miss the opposing ship, or the cannon could explode, so it would be wise to take more than three cannon balls.
Characters

Bill Teach • Pirate • Mama

Items

 Fuse •  Repair plank •  Tacks •  Plunder •  Cannon barrel •  Canister •  Gunpowder •  Cannon ball •  Ramrod •  Broken cannon •  Book o' piracy

Locations

Music

Related
Ad blocker interference detected!
Wikia is a free-to-use site that makes money from advertising. We have a modified experience for viewers using ad blockers

Wikia is not accessible if you've made further modifications. Remove the custom ad blocker rule(s) and the page will load as expected.