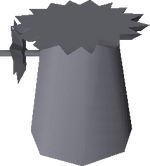 The cannon base is the first part of the dwarf multicannon to be set up, apart from the stand. It holds together the entire cannon. Players can talk to Nulodion to buy it, or they can buy the cannon base from other players.
The cannon base by itself can decay without having the full multicannon set up. A new cannon base can be obtained from Nulodion when lost, free of charge.

 Cannon stand •

 Cannon base •

 Cannon barrels •

 Cannon furnace •
 Cannonball
Ad blocker interference detected!
Wikia is a free-to-use site that makes money from advertising. We have a modified experience for viewers using ad blockers

Wikia is not accessible if you've made further modifications. Remove the custom ad blocker rule(s) and the page will load as expected.