Captain Emmemji was a Non-player character who served as the starting point of the Sailing skill (actually the 2014 April Fools event). He could be found on the coast of Draynor Village, and allowed players to use his boats to train sailing.
His name is a pun on Mod MMG, Jagex's former CEO.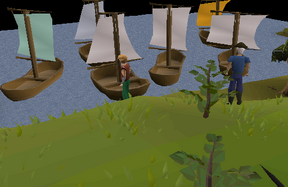 Ad blocker interference detected!
Wikia is a free-to-use site that makes money from advertising. We have a modified experience for viewers using ad blockers

Wikia is not accessible if you've made further modifications. Remove the custom ad blocker rule(s) and the page will load as expected.