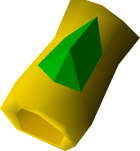 A Castle wars bracelet is a bracelet that aids the player in Castle Wars. It is obtained by casting Lvl-2 Enchant on an emerald bracelet.
When players wield this item at the moment they enter the game, they do an extra 20% damage against a bearer of a flag, and bandages heal 50% more. Players only need to be wearing it up until the time the game starts. After that, the charge is already given, and the player can switch to any item to be worn in the hand slot.
The bracelet can have a maximum of 3 charges. Each game will use up one charge, and after all charges are gone it will be destroyed. The number of charges remaining is displayed in brackets in the item name.
Bonuses
Hover over image for type
 Attack bonus
+0
+0
+0
+0
+0
 Defence bonus
+0
+0
+0
+0
+0
Other bonuses
Slot

list

+0
0
0%
+0
Standard

 Gold •  Opal •  Sapphire •  Jade •  Emerald •  Topaz •  Ruby •  Diamond •  Dragonstone •  Onyx •  Zenyte

Enchanted

 Expeditious •  Clay •  Flamtaer •  Castle wars •  Slaughter •  Inoculation •  Abyssal •  Combat •  Regeneration •  Tormented

Other

 Ethereum
Ad blocker interference detected!
Wikia is a free-to-use site that makes money from advertising. We have a modified experience for viewers using ad blockers

Wikia is not accessible if you've made further modifications. Remove the custom ad blocker rule(s) and the page will load as expected.