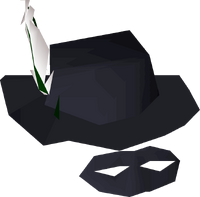 A cavalier mask is a unique Treasure Trail item. Rather than being obtained directly, it is made by earning a Black cavalier from a Level 3 Clue scroll and a Highwayman mask from a Level 1 Clue scroll, then taking both items and 500 coins to Patchy on Mos Le'Harmless.
Patchy will also take apart the two objects, for another 600 coins.
Trivia
The examine text says: "I hope I don't meet any roundheads." This is a reference to the English Civil War - the Royalists (i.e. the "Cavaliers") versus the Parliamentarians (known as "Roundheads").
The Cavalier mask looks very similar to the hat Zorro wears.
Eyepatches

Bandana eyepatch •  Hat eyepatch •  Pirate hat & patch •  Double eye patch

Other

 Beret mask •  Cavalier mask •  Crabclaw hook •  Top hat & monocle •  Partyhat & specs

Components

 Right eye patch •  Left eye patch • Pirate bandana •  Pirate's hat •  Big pirate hat •  Mime mask •  Black beret •  Highwayman mask •  Black cavalier •  Crab claw •  Pirate's hook •  Blue partyhat •  Sagacious spectacles •  Top hat •  Monocle