This article is about the normal Slayer monster. For the boss variant, see
Kraken
.

Cave kraken are slayer monsters that are found in the Kraken Cove. They can only be attacked if players have them as a slayer assignment. To be assigned cave krakens, players require level 87 Slayer and 50 Magic.
These monsters, along with their boss variant, are the only monsters to drop the Kraken tentacle and the Trident of the seas.
In order to attack a cave kraken, a player must disturb a whirlpool, causing the cave kraken to surface. Magic is the only reliable way of dealing damage to them, as Ranged attacks are heavily reduced, and Melee cannot be used.
It's generally not recommended to kill cave krakens if the player can kill their boss variant, as they have extremely poor drops which does not cover the cost of the runes needed per cast.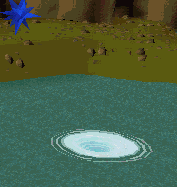 Runes/Ammunition
Edit
Rare drop table
In addition to the drops above, this monster also has access to the rare drop table.
Cave kraken use the same model as the Sea Troll Queen but it is recoloured and resized.
Cave kraken and their boss variant are similar to RuneScape 3's Strykewyrms, which can only be attacked while on a Slayer task and must be disturbed to fight.
Slayer Tower

 Crawling Hand •  Banshee •  Infernal Mage •  Bloodveld •  Aberrant spectre •  Gargoyle (Boss • Dusk • Dawn) •  Nechryael •  Abyssal demon (Boss)

Fremennik Slayer Dungeon

 Cave crawler •  Rockslug •  Cockatrice •  Pyrefiend •  Basilisk •  Jelly •  Turoth •  Kurask

Lumbridge Swamp Caves
God Wars Dungeon (Wilderness)

 Pyrefiend •  Bloodveld •  Spiritual ranger •  Spiritual warrior •  Spiritual mage

Stronghold Slayer Cave
Catacombs of Kourend

 Twisted Banshee •  Warped Jelly •  Mutated Bloodveld •  Deviant spectre •  Brutal black dragon •  Greater Nechryael •  Abyssal demon •  Dark beast

Wyvern Cave

 Long-tailed Wyvern •  Spitting Wyvern •  Taloned Wyvern •  Ancient Wyvern

Others

 Desert Lizard •  Mogre •  Harpie Bug Swarm •  Killerwatt •  Molanisk •  Terror dog •  Sea snake (Young) (Hatchling) •  Brine rat •  Fever spider •  Mutated Zygomite (Ancient) •  Cave horror •  Dust devil •  Skeletal Wyvern •  Cave kraken (Boss) •  Dark beast •  Cerberus •  Smoke devil (Boss)

| | |
| --- | --- |
| Superior monsters |  Crushing hand •  Chasm Crawler •  Screaming banshee •  Giant rockslug •  Cockathrice •  Flaming pyrelord •  Monstrous basilisk  Malevolent Mage •  Insatiable Bloodveld (Mutated) •  Vitreous Jelly •  Cave abomination •  Abhorrent spectre (Repugnant) •  Choke devil •  King kurask •  Marble gargoyle •  Nechryarch •  Greater abyssal demon •  Night beast •  Nuclear smoke devil |
Ad blocker interference detected!
Wikia is a free-to-use site that makes money from advertising. We have a modified experience for viewers using ad blockers

Wikia is not accessible if you've made further modifications. Remove the custom ad blocker rule(s) and the page will load as expected.