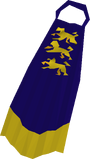 The Champion's cape is a cosmetic cape that is obtained by speaking to Larxus after defeating all 11 champions available in the Champions' Challenge. It is worn by Leon d'Cour, the human champion, Dimintheis, a Varrockian noble, as well as Toby, the taskmaster of the Varrock Diary.
It can be mounted in a cape hanger in a player's Achievement Gallery.
As of 23 October 2017, only 170 players are eligible to claim the cape.[1]
Bonuses
Hover over image for type
 Attack bonus
+0
+0
+0
+0
+0
 Defence bonus
+0
+0
+0
+0
+0
Other bonuses
Slot

list

+0
0
0%
+0
References
Edit
↑ Jagex. Mod Lottie's Twitter account. 23 October 2017. Mod Lottie: "Only 170 players have completed all 11 Champion's Challenges in @OldSchoolRS and are able to wear the Champion's cape. #RuneStats"
Lower Champions

Earth Warrior • Ghoul • Giant • Goblin • Hobgoblin • Imp • Jogre • Lesser Demon • Skeleton • Zombies

Champion of Champions

Scrolls

 Earth Warrior •  Ghoul •  Giant •  Goblin •  Hobgoblin •  Imp •  Jogre •  Lesser Demon •  Skeleton •  Zombies •  Human

Rewards

 Champion's cape
Regular capes

 Red •  Black •  Blue •  Yellow •  Green •  Purple •  Orange •  Pink

Combat capes

 Legends • Fire (max) • Infernal (max) •  Moonclan •  Lunar •  Mythical •  Obsidian (r) •  Saradomin (max) •  Saradomin (i) (max) •  Zamorak (max) •  Zamorak (i) (max) •  Guthix (max) •  Guthix (i) (max) •  Team •  Team i •  Team x •  Team zero

Capes of Accomplishment

 Agility •  Attack •  Hitpoints •  Construction •  Cooking •  Crafting •  Defence •  Farming •  Firemaking •  Fishing •  Fletching •  Herblore •  Hunter •  Magic •  Mining •  Prayer •  Ranging •  Runecrafting •  Slayer •  Smithing •  Strength •  Thieving •  Woodcutting •  Quest point •  Achievement diary •  Music •  Max

Cloaks

 3rd age •  Clue hunter •  Ghostly •  H.A.M. •  Mourner •  Saradomin •  Zamorak •  Guthix  Bandos •  Armadyl •  Ancient •  Saradomin team •  Zamorak team •  Ardougne cloak (max)

Fremennik cloaks

 Cyan •  Brown •  Blue •  Green •  Red •  Grey •  Yellow •  Teal •  Purple •  Pink •  Black

Others

 Ava's attractor •  Ava's accumulator (max) •  Ava's assembler (max) •  Bonesack •  Cabbage •  Champion's •  Deadman's •  Diving apparatus •  Eagle •  Explorer backpack •  Spotted •  Spottier