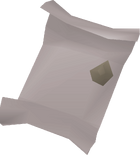 The skeleton champion scroll is a scroll that skeleton drop when killed. It is extremely rare to receive this as a drop. The scroll offers a challenge from the Skeleton Champion. By bringing this scroll to Larxus in the basement of Champions' Guild, a player may fight the champion in the Champion's Challenge minigame.
This boss requires players not bring any items or food with them: only a weapon is allowed. He is fairly easy to beat considering he is only level 40. While fighting the Skeleton Champion, a player can only use Ranged attacks
After being defeated, he gives 242 Hitpoints and Slayer experience.
Dropping monsters
Edit
All NPCs dropping the champion scroll drops it at a rate of 1/5,000.
Transcript
Edit
"
I'll be waiting at the Champions' Guild to collect your bones.
"
 

— Champion of Skeletons
Lower Champions

Earth Warrior • Ghoul • Giant • Goblin • Hobgoblin • Imp • Jogre • Lesser Demon • Skeleton • Zombies

Champion of Champions

Scrolls

 Earth Warrior •  Ghoul •  Giant •  Goblin •  Hobgoblin •  Imp •  Jogre •  Lesser Demon •  Skeleton •  Zombies •  Human

Rewards

 Champion's cape