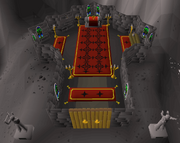 The Chaos Temple is a structure in level 38 Wilderness, west of the Lava Maze. It is not to be confused with the Chaos Temple (Wilderness) or Chaos Temple (Asgarnia), which are actually marked Chaos Temple on the map, whereas the hut is not. Each contains a chaos altar where players can recharge their Prayer.
As of an update on 2 March 2017, a wine of zamorak now appears on a table. This wine can only be obtained by casting Telekinetic Grab. Players who complete the hard Wilderness Diary will receive them in noted form.
Ad blocker interference detected!
Wikia is a free-to-use site that makes money from advertising. We have a modified experience for viewers using ad blockers

Wikia is not accessible if you've made further modifications. Remove the custom ad blocker rule(s) and the page will load as expected.