This article is about the Runecrafting altar. For other uses, see
Chaos Temple
.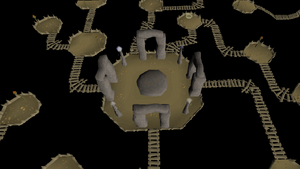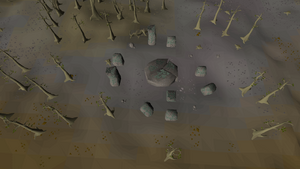 The Chaos Altar may be found in level 9 Wilderness just north of Edgeville Monastery. It is used to craft chaos runes from pure essence, providing 8.5 Runecrafting experience. Unlike other Runecrafting altars, the player must traverse a 4-tiered maze in order to reach the actual altar, though this may be avoided by use of the Abyss.
There exists a shortcut portal that starts at the third level. From there, the player should go east and then clockwise to the west ladder to reach the 4th level. After that, they should head east to reach the altar.
Accessing the Chaos runecrafting temple is a requirement for an easy task in the Wilderness Diary.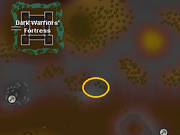 As with most other runecrafting altars, it can be accessed via the Abyss. Players could also enter its ruins by using a chaos talisman or simply click on the ruins while wearing a chaos tiara.
Experience
Edit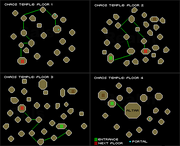 The maximum limit for crafting Chaos runes in one visit is 108. This would be achieved by having 75 Runecrafting, giving a 2x bonus, and carrying 54 essence to craft (24 in the normal inventory along with 30 in the 4 sizes of Runecrafting pouches). The maximum possible experience is 459 obtained while doing the above.
A chaos tiara may be created at this altar by having a chaos talisman and a normal tiara in your inventory. The player must use the tiara on the altar. Doing so will earn Runecrafting experience.
Runecrafting altars

 Air •  Mind •  Water •  Earth •  Fire •  Body •  Cosmic •  Chaos •  Astral •  Nature •  Law •  Death •  Blood •  Soul •  Wrath • Ourania

Talismans

 Air •  Mind •  Water •  Earth •  Fire •  Body •  Cosmic •  Chaos •  Nature •  Law •  Death •  Blood •  Soul •  Wrath •  Elemental

Tiaras

 Basic •  Air •  Mind •  Water •  Earth •  Fire •  Body •  Cosmic •  Chaos •  Astral •  Nature •  Law •  Death •  Blood •  Soul •  Wrath

Pouches

Essence